Katalogtext von Nina Behrendt
erschienen in: Soweit das Auge reicht.
Programmheft zur Indonesien-Exkursion der Filmklasse (2011)
"Die während der Exkursion präsentierte Arbeit "Nichts Als Lüge – Nothing As Lie" handelt vom Umgang mit vagen Gefühlen, mit unfassbaren Zwischenzuständen. Es geht um das Verhalten, Etwas als Nichts abzustempeln, aufgrund der Tatsache, dass man es nicht fassen kann. Der Film setzt sich mit dem Phänomen Verdrängung als Alltagsmechanismus auseinander."
Deborah Uhde, geboren 1982 in Braunschweig begann nach einem Studium der Philosophie, Kunstgeschichte und Journalistik in Leipzig 2009 das Studium der freien Kunst an der HBK Braunschweig. Sie  beteiligte sich seit Beginn ihres Studiums in unterschiedlichen Klassen (Schlingensief, Kunst in Aktion; Schnitt, Video; Eller, Klangkunst; und die Filmklasse von Michael Brynntrup) und arbeitet gern mit verschiedenen Medien, Materialien und Kunstformen –  Performance, Klangkunst, Installation – aber mit Vorliebe dem Film.
Der Film "Nichts Als Lüge" spiegelt genau diesen Umgang mit verschiedenen Medien wider und bedient sich gleichmäßig Ton, Sprache und bewegtem Bild. Die Künstlerin nutzt diese Elemente und fügt sie zu einem Ganzen zusammen. Das Bildliche wird dabei von Ton und Sprache sowohl kommentiert als auch  ergänzt und ergibt eine visuelle Grundlage für die Bilder, die durch die erzählte Handlung im Kopf des Betrachters entstehen.

Film online sehen | Watch the movie online
---
"The work "Nichts Als Lüge – Nothing As Lie" deals with non-defined or not clearly defined situations and the question about how to handle them. It is about the difficulty to take these moments of indecisiveness as serious and deep – not ignoring them as nothing. It also deals with the phenomenon of repression as an everyday mechanism."
Deborah Uhde, born 1982 in Braunschweig, began her studies of Fine Art in 2009 at the HBK Braunschweig after studying philosophy, history of art and journalism in Leipzig/ Germany. She already participated in a few different classes (class of Schlingensief, art in action; Schnitt, video; Eller, sound art; and the film class of Michael Brynntrup). She likes to experiment with a variety of media, materials and forms of art like performance, sound creation, installation – but most passionately with film.
The work "Nichts Als Lüge – Nothing As Lie" deals with exactly this use of different media and Uhde uses sound, language and image equally.  She uses these elements and puts them together to create a whole.
The images are commented and completed by sound and laguage and they build a visual base for the images that are created in the viewers mind by the narration.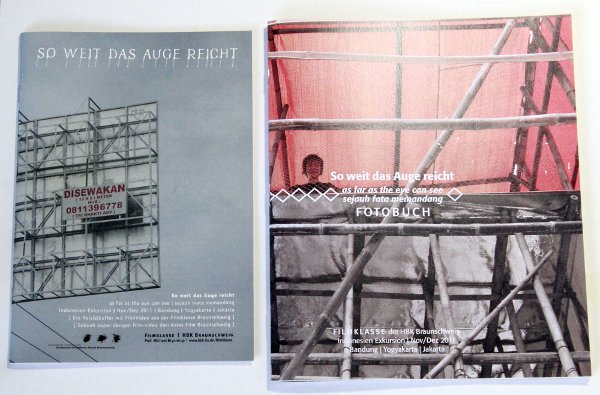 So weit das Auge reicht | As Far As The Eye Can See | catalogue and photobook (2011)